"I'm pleased to share the first story in the Ganymede Quartet, a gay coming-of-age historical fantasy. The fantasy aspect involves a version of Gilded Age New York City that is quite recognizable except that slavery exists in a form that differs in significant ways from historical slavery.
There are four books in the main series thus Quartet and there will be several side stories in addition to this one. While this is not required reading to enjoy the series, it's FREE, and it offers an in-depth introduction to one of the main characters."
via free ebook: A Superior Slave Ganymede Quartet Book 0.5 | Darrah Glass.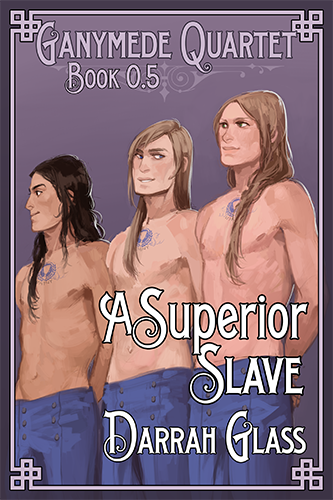 I beta read the books in the series and absolutely loved them! The entire series is one of my all-time favorite reading experiences. I adore Darrah's writing style and her characters! The depth of emotion that I felt in just reading this short, the loss, the excitement and anticipation, the anxiety for the outcome were overwhelming. It was intense and delightful. In this free short book, you get to meet Martin, the slave who goes forward into the rest of the four main books. It's available for FREE on Smashwords and for .99 on Amazon. (Hopefully it will be free on Amazon before long too, too. But unfortunately Amazon hasn't price-matched yet.) Coming soon to Barnes & Noble, iTunes, and more.
BUY LINKS:
PRE-ORDER THE FIRST FULL-LENGTH BOOK OF THE SERIES! A MOST PERSONAL PROPERTY! ON AMAZON!